ITV's 'This Morning' with Mia Dolan
A word of warning this is a longer commentary than usual. It was also a lot more work. Anyway here goes, I hope you can stay the course.
According to her own website Mia Dolan is, one of the most sought-after psychics in the UK Really Well we had better get her on tele then!
Over the years Ive watched some pretty dire television but I think Id be hard pressed to find anything to compete with the incredible bias shown of ITVs 'This Morning'. The usual hosts Fern Britton and Philip Schofield are taking a break and stewardship of the programme has been handed over to Richard Bacon and Denise Van Outen.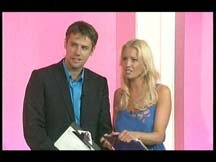 It seems for the last couple of weeks they have been testing Mia Dolan who, to use her own words, is taking part in an experiment to prove that I am psychic.
Having watched the programme and seen Mia demonstrating her abilities my own assessment, based on the show, is that if shes psychic then the Popes Jewish. However the hosts Richard and Denise seem to have an entirely different perspective. Both were mightily impressed with Mias perceptive insights.
On the show Richard Bacon said they were, putting Mias psychic powers to the test. Already Im going to allow myself to make a small pedantic point because this sentence seems to illustrate the true intention behind the test; surely its purpose is to establish if she has psychic powers whereas Bacons phrase seems to assume they already exist and that they are merely trying to find out how good they are.
The viewer is first treated to a recap where we see Mias extraordinary power from the previous two weeks. Mia is in the studio along with Bacon, Van Outen and the token sceptic psychologist Dr David Lewis.
A woman (Emily) is shown on a screen and Mia is giving her a reading.
Mia Dolan: aura colours are so sensitive, light blues, weve got green, weve got pinks
Hang on a minute! Why does no one ask how come she can see this womans aura via a television screen This is surely a revelation worth exploring. Its hard enough to swallow that she can see this non-existent aura in real life but via a camera Please!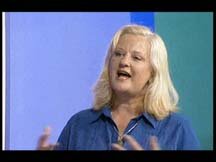 But lets let Mia continue.
and this means that in her childhood she had to feel she would always do that bit more, you know, she will always do 110%. She always feels shes got to prove more than other people. So emotionally youre going to be feeling a little bit weird at the moment. Things are changing at the moment.
Van Outen kindly elaborates: So possibly quite sensitive.
Richard Bacon: So what do you make of that
Emily: Yeah, thats very true.
What exactly is true and why, we are not told but to summarise, Emily has been told that she feels the need to prove herself and shes feeling a little bit weird at the moment. Golly what insight.
Still more recapping
Mia: To do with your education, your career its going to be a mixture between either media type like work. Media, go in front of people. Im also getting a lot of music in the background as if musics a big part of your life.
Notice the usual ambiguity. What does media type work and go in front of people mean Bear in mind that this woman is very attractive (I have my wifes permission to say so) and shes on television. So if she reads the local news, its a hit. If she is in amateur dramatics, its a hit. If shes a bingo caller, its a hit. If she plays the cello in a local string quartet thats probably a hit too. But heres Emilys response.
Emily: Im not involved with either music or media although I used to play the piano.
A new clip, this time to a woman called Wendy.
Mia: I see loads of moving boxes, moving stuff around like its all a bit chaotic. So have you been clearing something out this weekend"
Possible things that might fit;
Shes starting to move house or just moving in. Both packing or unpacking would fit.
Having a clear out and taking stuff to the dump.
Helping a friend or relative do either of the above.
She works is a warehouse with loads of boxes.
She works at a removal firm.
She works in a charity shop.
Im sure you can think of many more. But here comes the wonderful reply...
Umm no.
Already I like Wendy.
Mia continues: Im seeing glasses going on so should imagine theyre for reading glasses, because she hasnt got them on now. Shes not wearing them all the time. But Im definitely getting glasses put on.
Definitely eh There still a certain amount of equivocation in the phrase, Im seeing glasses going on but no matter.
Van Outen helps increase the chances of a hit with, Do you wear glasses or contact lenses Who mentioned contact lenses
However good old Wendy replies, No Ive got excellent eyesight.
Undaunted Mia produces still more, Should have been to the dentist in the last few weeks. Im afraid the back of the mouth , right at the back on the right hand side. If youve not had a filling done recently thats coming up.
Wendy: Well Im aware that I do need one filling but its not on the left hand side.
Mia: I said the right.
Wendy: Sorry its not the right hand side its on the left hand side.
DVO: So does any of this sound right to you Wendy"
Wendy: I believe I probably opened my mouth a little too wide and she saw a hole.
Now Wendy has been straightforward with her replies and acknowledged that the tooth comment was nearly right and Mia has done pretty poorly by any standards. Firstly Mia was wrong about the moving boxes then, despite being definite, she was wrong about the glasses. Finally she mentions a back tooth (how many front teeth are ever filled) but gets the wrong side (no mention was made whether this was a top or bottom tooth). And whats Denise Van Outens response
DVO: Cynical, cynical, cynical Wendy, oo cynical.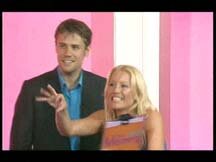 So if Mias right it proves shes psychic and if shes wrong it proves the sitter is cynical.
Back to the present we are live in the studio ready for todays test
( 01/08/05).
RB: I think, to be honest, I think Wendy was being a bit unfair there.
DVO: I think she was being very unfair.
Wendy gets promotion from cynic to unfair. For what its worth Richard and Denise I think, to be honest, youre talking out of your arses. Wendy replied honestly and was perfectly clear. Mia just screwed up.
RB. (To psychologist Dr David Lewis): David here, who is our cynic. I mean she predicted the hole filling. How about that then

No she didnt, she guessed and then it was only partly correct. All her other statements were just plain wrong but, as becomes apparent, Bacon delights in misquoting.
DL: No I think if you throw enough rocks at the barn youll hit the barn eventually.
RB: Oh come on thats unfair.
David Lewis has now been labelled with the familiar Bacon/Van Outen terms for those daring to cast doubt on the wondrous Mia, cynic and unfair. But as ever Bacon is wrong and Dr Lewis is being entirely accurate, which on this programme makes him somewhat unique.
DL: Let me be absolutely clear, I would love Mia to prove her psychic powers. I would love it because if would be a fantastic advance for science. I dont think she will and I can think of a lot of reasons why shes not going to, but lets see.
Well said, and let me add that Dr Lewis remained a perfect gentlemen throughout which, considering the provocation, was no mean feat.
The next subject is another woman, Gerry from Redhill in Surrey, (why are they all women) who will be given this weeks reading from Mia.
Mia begins by once again performing the miracle of reading an aura from a TV screen. She notices various colours, pinks, little bits of grey, silver, and blue. Heres Mias translation of what this means;
Grey: is actually depression but apparently the depression is moving away now. Youve had a down time.
Youll notice that vagueness of the time frame here but theres also ambiguity with the term depression. Is this clinical depression or just feeling a bit depressed like I was watching this programme
Pink: is just anxiety. Theres lots of things going on. It could simply be because youre on tele this morning.
Vague once again, especially, lots of things going on. It could be shes on television or in fact anything in the world. Is this what we can expect from, one of the most sought-after psychics in the UK
Blue: The main colour is blue. And blue is the people person. Its a dark blue and this means that youll be involved in helping people. Your life will be a mission to do with people. Youre very warm, youre everyones agony aunt.
If you didnt see the programme (lucky you) you wont know what Gerry looks like but she is clearly a very cheerful woman with a bright smile. Id put her age (apologies Gerry if this is wrong) at around mid forties. She was very warm and charming so this isnt exactly very revealing information.
Silver: and the little bits of silver, even though youre actually cynical (she mentioned she was open-minded but sceptical earlier) or shall we say on the fence here. The silver means you have great intuition and gut instinct so even though you maybe not believe in psychics, you often say, Yeah I had a feeling about that or I dont trust that person very much or I trust this person and youll take your first impressions and go with it. But its much better the terminology we use when we say gut instinct thats acceptable. If we say psychic perception thats not. So I think the language you use makes you feel more comfortable with it. But you do have great intuition.
Modesty forbids but to quote from my own Before You See a Psychic,
Another favourite is, 'You're a very spiritual person yourself, quite psychic in many ways. You should try to develop your powers. You're certainly a very caring person.'"
Isnt that more or less what she just said Apart from being pretty obvious and not very enlightening anyway, when stripped to its bare bones its little more than a blatant attempt at flattery.
Bacon steps in to see if the testing procedure has revealed Gerry to be a cynic.
RB (to Gerry): Have you had a bit of depression thats now passed
Gerry: No.
RB: Damn!
Gerry: No Im not a depressed person. Ive got a sunny personality. I wouldnt I mean almost everybody goes through some periods of their life, but if youre talking way back then.. then obviously a downtime but Ive never suffered from depression really.
Van Outen sees a chink of light and descends further into farce, So going back a few years ago you had a time when you felt quite low is that right
So lets just see where we are now. We want to know if Gerry has ever felt a quite low at anytime in her entire life. It beggars belief.
Gerry: Well I had a tragic incident but Im talking many years ago.
Mia: I said the grey was on the edges and its a very heavy situation, thats very depressing, thats gone away. And youre normal, youre very people person. Youre very bubbly.
Not exactly what she said which, to save you going back to look, was, actually depression but apparently the depression is moving away now. Youve had a down time.
No heavy situations and certainly not very depressing.
Bacon sees his chance to totally misrepresent what has happened by saying, Look at that look unbelievableunbelievable.
Actually I take that back. I agree, it really is unbelievable.
David Lewis: Most people go through bad periods of their life we all its a human condition. We all have bad periods.
Bacon swats away any attempts to be rational with a dismissive and very impolite, Now shut that Gerry did anything else tally (anything else) Mia talked about anxiety, did she get anything right there
Gerry: No, never.
RB: Not a single thing
Gerry: No I dont ever remember feeling anxiety no."
Mia: So youre not very good with people. You dont help people with their problems Do I sense annoyance
Gerry: Um, yes I try to, dont we all
Theres that small light at the end of a very black tunnel again. Van Outen to the rescue, So would you say you are a bit of an agony aunt A shoulder to cry on for friends
Gerry: Yes.
RB: Right, that sounds to me like Mia got something right there Gerry.
Mia: Youre not feeling anxious about appearing this morning on tele
Gerry: No.
Even Richard Bacon cant quite swallow this one and points out it wouldnt be a very good prediction. Careful Richard or Denise will start calling you a cynic.
Gerry then jokes that she was anxious about getting there because she was stuck on the M25.
Once again displaying his finely honed skills of misinterpretation Bacon proudly exclaims, Thats what she was on about, she was predicting a traffic condition.
DVO (To David Lewis): David what do you make of that then
A pile of crap Sorry David over to you.
DL: I dont know what to make of it. It would apply to 90% of the human race.
An excellent answer that concisely points out the ambiguity and the sheer emptiness of Mia Dolans pathetic attempts at cold reading although David Lewis puts it much more charmingly than I.
This is quickly dismissed by Bacon who continues his obscurantism by reinterpreting Mias waffle into a prediction about a traffic jam on the M25. The good doctors remarks are brushed aside with a feeble joke.
Finally Richard Bacon yet again ignores the evidence of his own eyes and ears in order to portray Mias pitiful performance as something vaguely significant. Dr Lewiss professional opinion is left to whither on the vine whilst Mias constant failed attempts to guess something, anything, correctly are elevated in Bacons estimate to 50%. Bacon unbelievably says, Gerry, I think, lets be honest here she got about 50/50 right so far this morning.
Gerry responds with a beautiful piece of ambiguity of her own by saying, That sounds fair doesnt it. It might sound it but it isnt.
There is still more to this but I think the point has been adequately made and I cant bear to sit through yet more of it.
This programme was an insult to Dr Lewis, to science generally and to its viewers in particular. It seems ITV assume that all they are interested in is mindless pap like this.
All I can suggest is that you switch off or switch over.